If you follow me on instagram you know very well that I was just on vacation because I was parading it around on social media like it was going out of style. I don't feel bad about it.
I have three older sisters and as a family we have this reputation for being dramatic and exaggerating. This reputation has been perpetuated and mostly created by my dear husband Trever and my sisters doting husbands. Any exaggeration or drama in our nieces and nephews is quickly attributed to the Watkins side. Watkins, that's my maiden name, simple, easy to spell, easy to pronounce and sounds nothing like horny. When Trever first told me his last name when I met him, I remember very clearly repeating it with confusion and a question mark and so to clarify he said, "yes, it's like horny without the r." That's when I knew.
So anyways, I want you to know I am not exaggerating right now - Santorini was astonishing. I did not expect to love it so much. The first night we arrived and I was chasing after a Grecian speed walker extraordinaire who was guiding us to our apartment, I started crying because I was so happy to be there. Tears were slightly dramatic and likely due to sleep deprivation, but it's actually that amazing! We live in California so cliffs above the ocean, although stunning, are not an unseen sight for us. But in Santorini the water is bluer, and the cliffs are more dramatic, and the white and blue buildings lining the coast are like nothing else in the world, and the small stares that spaghetti down the cliff and lead to tiny cafes and shops could charm the greatest cynic, and their baklava is better, and so are their tomatoes. Then just to blow our minds, in the evening the village looks likes it has been draped in twinkle lights and it obsessed me. It was love at first sight. Just like when Trever said to me, "horny without the r".
Here are the things one MUST do in Oia, which is the little village we stayed in on Santorini.
There are stairs at the west end of Oia that lead down to Ammoudi Bay. There are over 200 of them and they are three steps uphill per stare so it's really like 600 on the way back up. You may feel like dying, you may want to die, but you will not die. Once you pass the donkeys and reach the water turn left and walk through the patio of Ammoudi Fish Tavern and continue on the trail until you find a flat rock space and stairs into the water. You can either jump in there with all the other people, or if you keep walking and climb over the rock until you can once again see Oia above you, there is a large flat rock that juts out perfect for two people to set up camp with total privacy and views of Aegean heaven. From this rock you can jump in and swim in the warm and clear water and climb up some rocks to jump off a cliff. I jumped off three times and one time almost back-flopped. Trever swam to it with his camera in a zip lock bag above his head and used his free arm to swim against the current to the cliff so he could take pictures, something that would have undoubtedly led to my death had I tried. I'm not afraid of heights, I'm not afraid of swimming, but my doggy paddle will likely kill me one day.
After swimming go back to the restaurant you walked through and get a table on the waters edge. Thanks to less suing in Europe and thus fewer regulations, the table legs are less than an inch from the waters edge with no railing. It's like, if you fall in you're dumb and deserve it, but if you would like to eat ON the water you're welcome to but try not to knock your wine over because it will fall in the sea. From the boats to the cooler to the grill to our table went a whole fish and squid and it was one of my favorite meals of my life.
Below is a photo montage of the walk to the bay. It's like you were there with us (click to scroll through).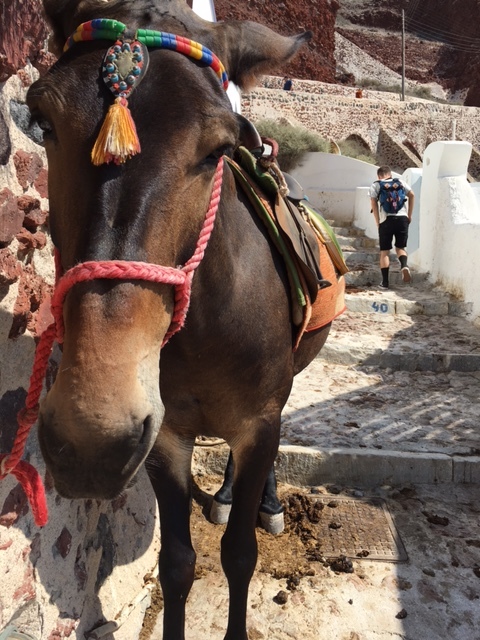 Eat baklava anytime you see it. Walk the length of the village. Get cocktails at Sun Spirit Cafe. Shop for books at Atlantis books and read on their terrace. Get breakfast at Skiza Cafe. Order takeout street food with extra tatziki and watch the sunset on the west side of the village, or stay here and watch it from your patio. Eat Greek salads with every meal. Stay up late and wake up early. Never leave.